Facials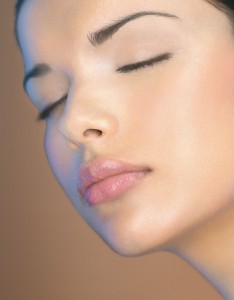 Nufaces Signature Facial $95
An enzyme exfoliating gel, ionized steam, extractions (as needed), massage, and a custom mask are used to restore the skin's natural balance. A face and lip serum are applied followed by eye cream, moisturizer and sun protection.
Teen Facial $75
Deep cleaning includes extractions, high frequency/oxygen to purify the skin. Education on do's and don'ts for healthy skin.
Guinot Facial Treatments
Aromatic- The Magic of Plants $125
A customized blend of Essential Oils (Aromatherapy) and Plant Essences (Phytotherapy) are created to specifically meet the needs of your skin. Your skin will be beautifully balanced.
Beauté Nueve Facial- Radiance Effect $125
The naturally derived fruit acids and enzymes eliminate dead skin cells and impurities allowing the skin to breathe for a smooth, radiant skin.
Hydradermie- The Heart of Guinot $125
Designed to restore your skin's natural beauty. The secrets behind the treatment…Ionization, Oxygenation and a Lifting Massage. Your face will appear remarkably rested and radiant.
Liftosome Instant Lifting and Firming $125
Developed specifically to treat mature skin. The extracts of Orange, Ginseng, Marine Collagen and Vitamin C combined with the warming effect of the maskrestores elasticity.
Lifting Treatments
Hydradermie Lift $125
This advanced treatment combines the use of micro-currents and high frequency to tone and firm the skin deep down by exercising the muscles.
Advanced  Treatments
Ultra Peel® $125+
Formulated to help treat aging skin, sun damaged skin, pigment disorders and acne.
Sensi Peel® $125+
The solution contains a blend of Lactic Acid and Tricholoroacetic Acid (TCA). Plant derived progesterone leaves the skin feeling hydrated. Excellent for calming rosacea.
PCA Peel® $125+
Light-to-medium peel formulas effectively exfoliate, bleach and inhibit pigment production. Also excellent for acne skin types.
Oxygen 3 Step Treatment $95
Stimulates respiration and circulation in the skin to neutralize free radical damage. Creates a rosy flush. Ideal before a special event.
Pumpkin Enzyme Peel Treatment $95
Pumpkin contains naturally occuring enzymes and powerful antioxidants. Skin looks radiant immediately following this treatment.
Diamond Dermabrasion $125 (Series of 3 – $300)
Microdermabrasion removes the outermost layer of skin. We add a hydrating mask to soothe and hydrate the complexion.
Epicuren Enzyme Treatment $125
Stimulating enzymes "exercise". A two layer tightening mask follows to create a toned, firm skin.
Facial Add-Ons
Revitalizing Eye Treatment $25